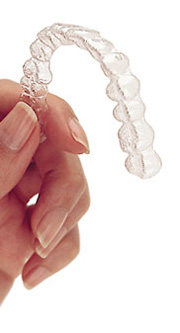 We are a Certified Invisalign Provider
Consider Invisalign treatment to get the beautiful straight teeth you've always wanted — without braces. We are excited to offer this as alternative to almost one-third of our patients. Invisalign is offered at the same cost as braces and we proud to be the leading provider of adolescent Invisalign in the tri-state area.
What is it?
Invisalign treatment uses a series of virtually invisible, removable, and comfortable aligners that allow you to smile more during treatment as well as after. Just like traditional braces, Invisalign straightens teeth and corrects bites without the hassle of metal brackets and wires. Instead, Invisalign aligners are simply worn throughout the day -- only taking them out to eat and clean the teeth.
Why would I want it?
Not only are the aligners virtually invisible, they are removable, so you can eat and drink what you want while in treatment. Plus, brushing and flossing are no problem. With no metal brackets or wires to adjust that means you will have less frequent visits to the office, and in some cases, shorter treatment time. Invisalign treatment also allows you to view your own virtual treatment plan when you start so you can see how your straight teeth will look when your treatment is complete.
As with any tool, it is important to choose the best one to solve the problem. We will review each patient's unique needs to determine whether traditional braces, Invisalign, or a combination of both, will produce the best outcome.
How does it work?
You wear each set of aligners for about ONE week, removing them only to eat, drink, brush, and floss. As you replace each aligner with the next in the series, your teeth will move — little by little, week by week — until they have straightened to their final positions. You'll visit us about once every eight to ten weeks to ensure that your treatment is progressing as planned.
For more information on Invisalign, you can visit the Invisalign website.